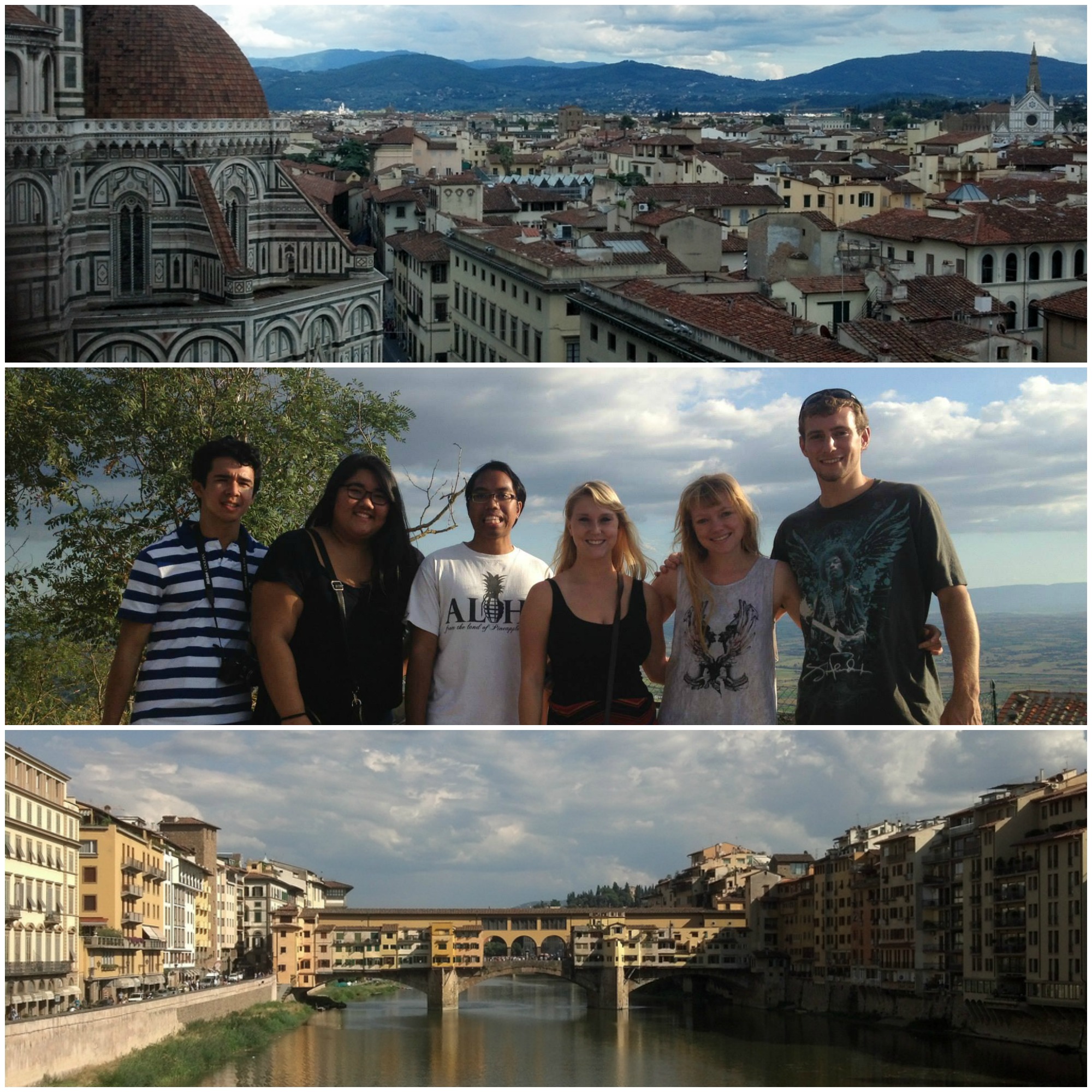 Are you studying abroad (or planning to) and feeling a wee bit nervous? Fall 2013 Study Abroad alumna Kiyana has very kindly shared some insights and tips with anybody planning to study abroad in Florence. However, the other practical tips apply to pretty much any location, really, so read on and be excited/motivated!
Written by Kiyana Higa Florence, Italy Fall 2013  
Definitely don't be afraid to get lost and roam around. You stumble across the greatest things and when it doubt look up for the Duomo peeking out at the tops of the buildings and use that as your central point. You know how they say all roads lead to Rome? Well in Florence, all roads lead to the Duomo. Find that and you'll never really be lost.
Budget wisely but don't be afraid to dish out on the things that matter the most to you. Food is something I will never regret purchasing, as long as it's something I want and crave. Ask for student discounts too. Many shops and restaurants around the city and near your school will offer student discounts so take advantage of that! You'll get to talk to the shop owners and practice your Italian.
Push yourself outside of your comfort zone. Routines are great but now and then push yourself and do something different for the hell of it. You're in Italy baby, live it up.
Do something you never thought you'd ever do. Singing at a jazz club? Dancing on a table? Running a marathon? Striking up conversation with strangers only in Italian? DO IT. It'll be those memories that make looking back at your time so great.
Enjoy it. Seems simple enough but sometimes you'll catch yourself just doing things and not really taking it all in. All of us agree that a semester was not nearly enough time to spend and soak up Italy. When you get there 4 months seems like forever but the days will start slipping away and the next thing you know you've blinked and 2 months have come and gone. Make a list of the things you absolutely must do before leaving so you have a starting point. From there fill in your days and time with things you hear about, read about, and are invited to. And if things don't work out, don't fret and dwell on it. The best things happen organically so while one plan might have fallen through move on because there is always something else to take its place.
Kiyana has also compiled her friends' advice on living in Florence on her blog Kiyana Goes to Italy. Read on, and apply to Study Abroad if you have not already done so!